Elon Musk Calls Out Media For Covering 'Super Rude' Tesla Customer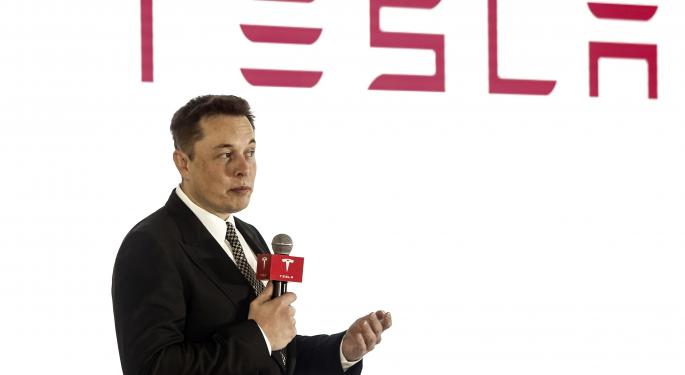 It's not the first time Tesla Motors Inc TSLA 5.27% 's Elon Musk has opened up about media coverage, the way he handles his public image or his interactions with others.
However, this time, the criticism landed splat on journalists and a "super rude" customer.
Must be a slow news day if denying service to a super rude customer gets this much attention
— Elon Musk (@elonmusk) February 3, 2016
"Must be a slow news day," Tesla's CEO began his tweet.
Related Link: Dougherty & Co Defends Tesla, Sees 92% Upside From Here What Prompted The Tweet?
According to a BGR article, "Earlier this week, venture capitalist Stewart Alsop penned a post on Medium appropriately titled Banned By Tesla! The gist of the post is that Alsop ordered a Tesla Model X only to have his order directly cancelled by Musk himself."
The timeline of events runs something like a movie script. Alsop was invited to a Tesla reveal event in September 2015, with the time specified on the invitation much earlier than the actual event kickoff. In true journalistic fashion, Alsop took pen to paper and wrote a "scathing post" calling out Musk. Alsop's initial post title captured the essence of his frustration, "Dear @ElonMusk: You should be ashamed of yourself."
Months later, Alsop penned a new article, this time disclosing that Elon Musk had personally cancelled Alsop's Model X order.
In Alsop's "Banned By Tesla!" post, he opened, "Dear @ElonMusk: Thank you for reaching out to me. I heard from our phone conversation that you feel that my post […] was a personal attack on you. I also hear that you are not comfortable having me own a Tesla car and have cancelled my order for a Tesla Model X."
Alsop continued, excusing himself as being tame compared to his "old role as a press pundit critiquing companies and their executives." He then outlined a few personal suggestions he feels Musk and Tesla could benefit from, "We didn't get a chance to talk about that [Tesla's lack of a marketing department], but it might be time for the company to take on such a function […] At least you won't have irritating gadflies like me squawking about your events!"
The post closed with, "I have plenty of other comments to make about how to run your company, but I imagine that if you don't want me to own one of your cars, you probably aren't interested in what I have to say about your company! I guess this means I probably won't be allowed to buy a SpaceX Dragon, either."
Despite Alsop's lighthearted second post, Musk's reply tweet began circulating and has, at the time of this writing, been retweeted over 1,300 times and liked over 4,800 times.
Benzinga reached out to Tesla for comment; the company said it stands by Musk's tweet.