Arbor Pharma Announces Acquisition Of Xenoport At A 60% Premium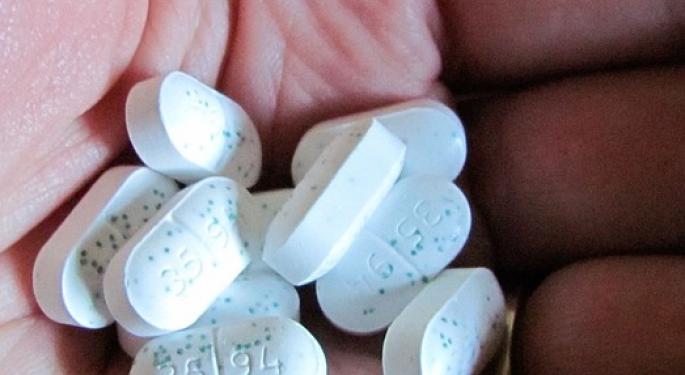 Shares of XenoPort, Inc. XNPT 56.7%, a small-cap bio-pharmaceutical company that focuses on the commercializing HORIZANT in the United States for the treatment of adults with moderate to severe primary Restless Legs Syndrome, surged higher by nearly 60 percent early Monday morning.
XenoPort entered into definitive agreement with privately-owned Arbor Pharmaceuticals in which it will be acquired for $7.03 per share in cash, valuing the company at approximately $467 million.
The acquisition price represents a premium of 60 percent to XenoPort's closing price of $4.40 on Friday.
Arbor Pharmaceuticals is a specialty biopharmaceutical company that focuses on the cardiovascular, hospital and pediatric markets with a portfolio of 20 NDA or ANDA approved products and more than 35 other products in development.
"We are pleased to be adding HORIZANT and the XenoPort pipeline to the growing portfolio of Arbor products," said Ed Schutter, president and chief executive officer of Arbor. "We believe that XenoPort's lead product HORIZANT offers patients and physicians a valuable treatment option for moderate-to-severe primary restless legs syndrome and postherpetic neuralgia. The XenoPort sales team has done an excellent job of growing HORIZANT, and we look forward to supporting them to continue this significant momentum."
Vincent J. Angotti, chief executive officer of XenoPort, stated, "This transaction provides immediate and substantial value to our stockholders, and we believe that Arbor is well positioned to provide the proper resources for a more expanded commercialization effort of HORIZANT. We evaluated many potential options to maximize the value for stockholders and believe this transaction represents a great outcome for XenoPort stockholders."
The deal is expected to close in the third quarter of 2016 and has already been unanimously approved by the board of directors of both companies.